Lifetime deal
Maximize your lead generation
Get fresh data with Scrab.in
We can tell you that spending hours using LinkedIn to find new clients suck.
That's just the beginning of the nightmare, though; you will need to send the invitation, wait until it gets accepted, write a message, do the follow up and add them to a CRM and set up campaigns to contact them!
You're most likely to end up doing something else more interesting than just visiting profiles on LinkedIn…
But what if I told you, you can do all three things, easily, with one tool.
Interested? I bet. Meet Scrab.in.
Send messages, do endorsement, save data — and much more!
Select a segment on LinkedIn. Click on the Scrab.in Chrome extension and let it work 24/7 — while you enjoy life!
Take LinkedIn Actions to the next level. Invite people to connect, automate your messages.
Measure and track all the actions you have been doing with Scrab.in for you or for your customers.
Choose the perfect action for the correct moment and visit profiles to let them know you have seen their profile.
Add a personalized message. You will be able to send personalized messages automatically to all your first degree contacts.
Download all the information in a CSV document and connect it to the CRM you choose to automate your Outbound Marketing strategies.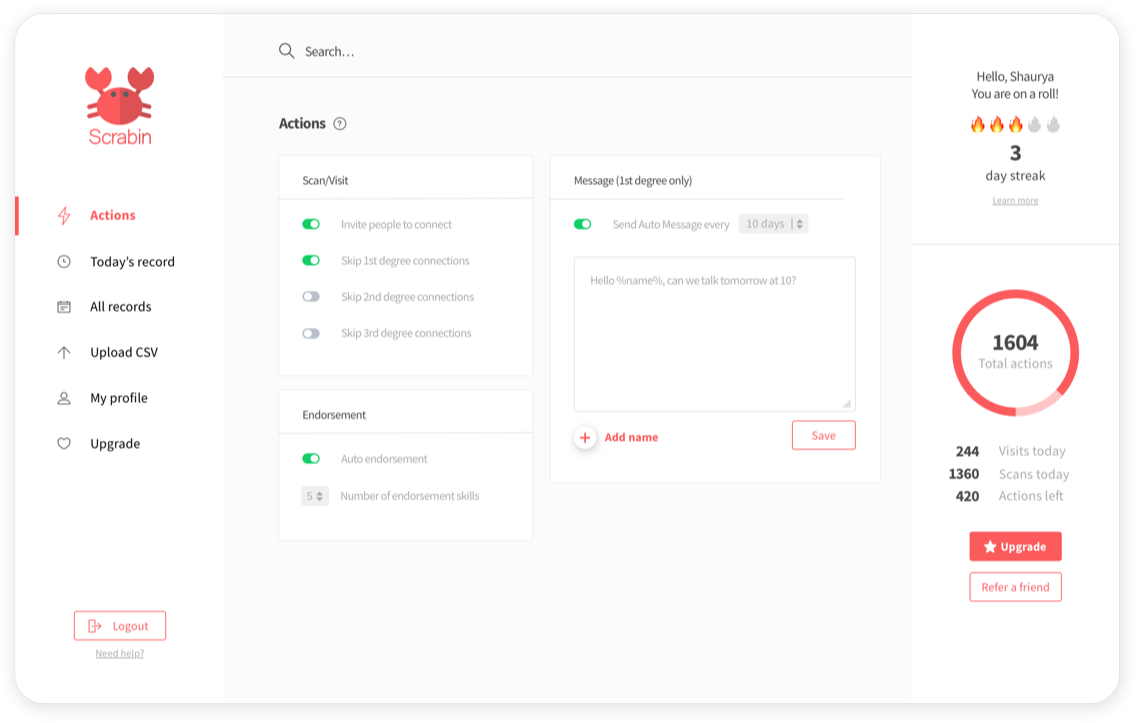 It's so simple to automate LinkedIn with Scrab.in!
Scrab.in also offers a few other important actions to automate and grow your favorite business network: for example, you could use "Send Message" to automatically send messages to all your first degree connections.
Imagine the power to promote your product, service or event in just a few clicks.
Imagine having all your LinkedIn contacts at your feet.
Let the force be with you! Or let the crab do it for you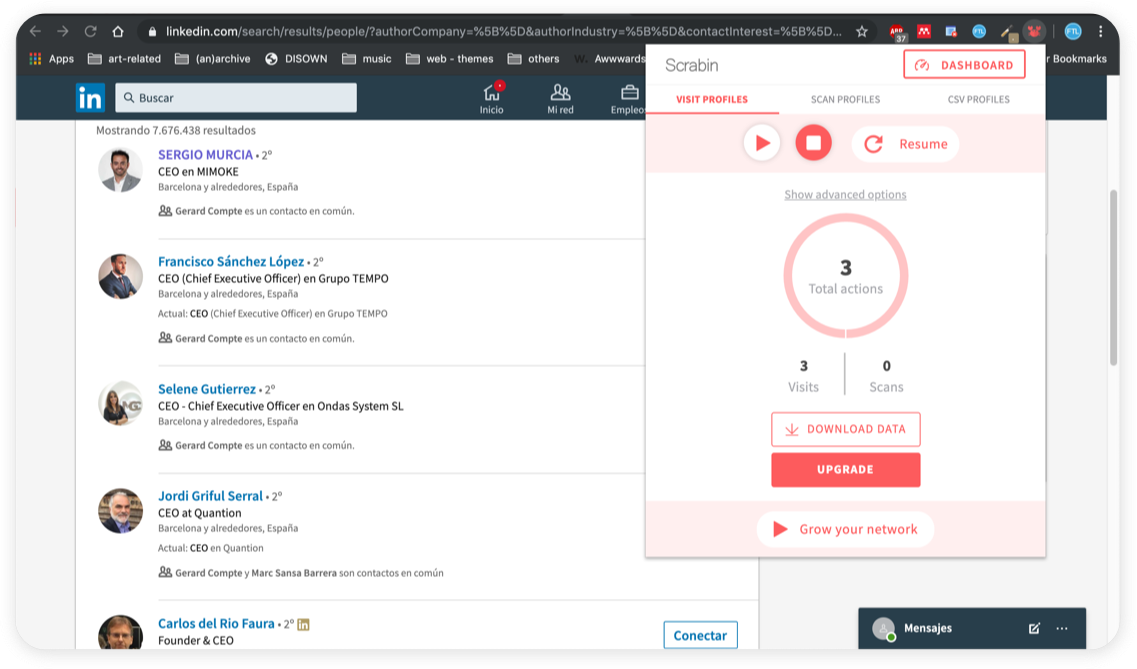 You can use Scrab.in's Chrome Extension to automate all your processes on LinkedIn. But how can you do that? Let's do a little exercise!
Go to LinkedIn and search for any kind of profile you will like to promote your service, product or event to.
Type CEO as an example of the LinkedIn search.
Open Scrab.in's Chrome Extension and BOOM!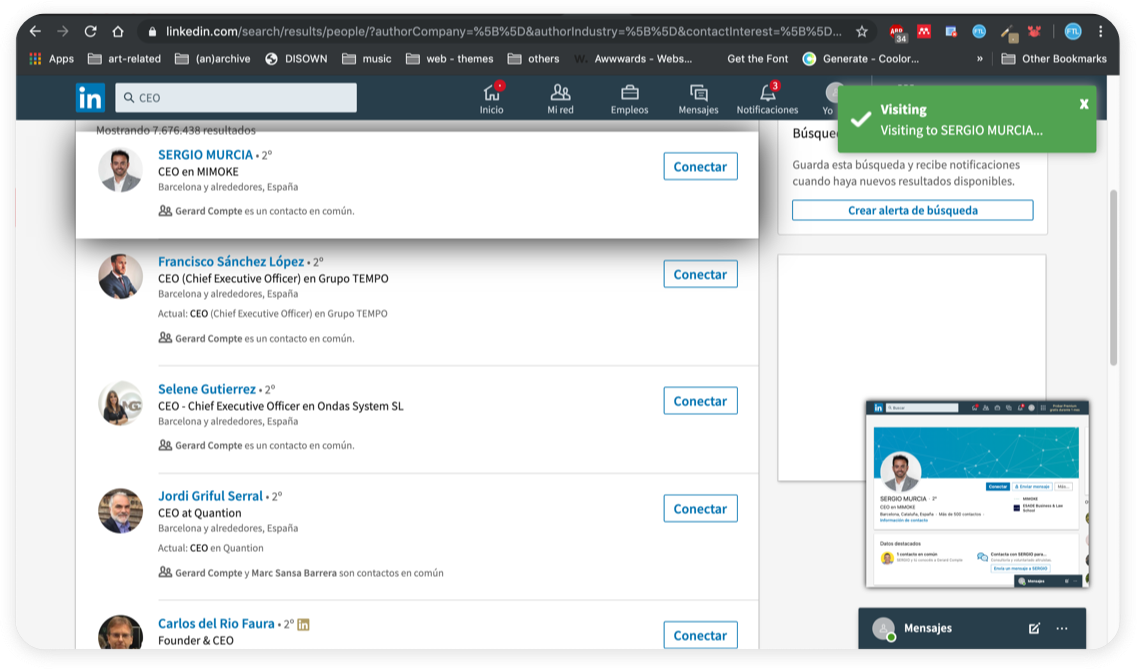 Scrab.in can do up to 500 visits a day for you, and YES, you can now export your data easily — Scrab.in will save everything for you! Amazing! 😍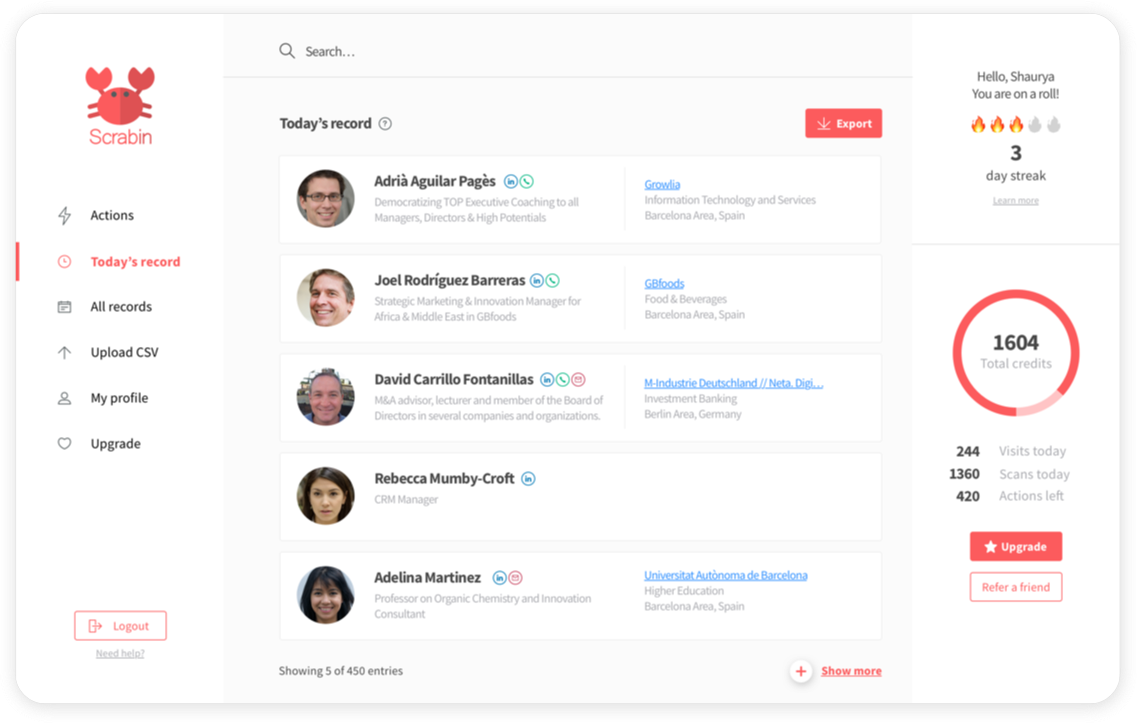 Okay, say no more… I want this offer!
Get this Deal
This is where you will go crazy!
Scrab.in lets you automate your LinkedIn to send up to 500 daily messages, visit 500 profiles a day and endorse up to 10 skills to everyone you visit.
All this action will take place at the same time if you want to! Your wishes are our commands 😉
While everything is happening, Scrab.in will save all the information to make it easy for you to download as a CSV file, so you can export it to your favorite lead generation tool: FindThatLead!
This way you will generate emails to do amazing outbound marketing campaigns!
This special plan includes:
500 visits per day. You can visit, send messages and endorse at the same time.
Automate messages to all your first degree LinkedIn contacts.
Download all your contacts in a CSV file from our extension.
Choose the action you want Scrab.in to do for you: visit profiles, from first to third degree. Send automated messages or grow your network organically.
Invite people to connect.
Access to the Chrome Extension.
Access to the pro tips from Gerard Compte to grow your LinkedIn.
Access to all the updates — forever!
Import CSV and Google Spreadsheet to your CRM or professional email finder.
Are you ready to take you LinkedIn account to the next level?
Let's do this